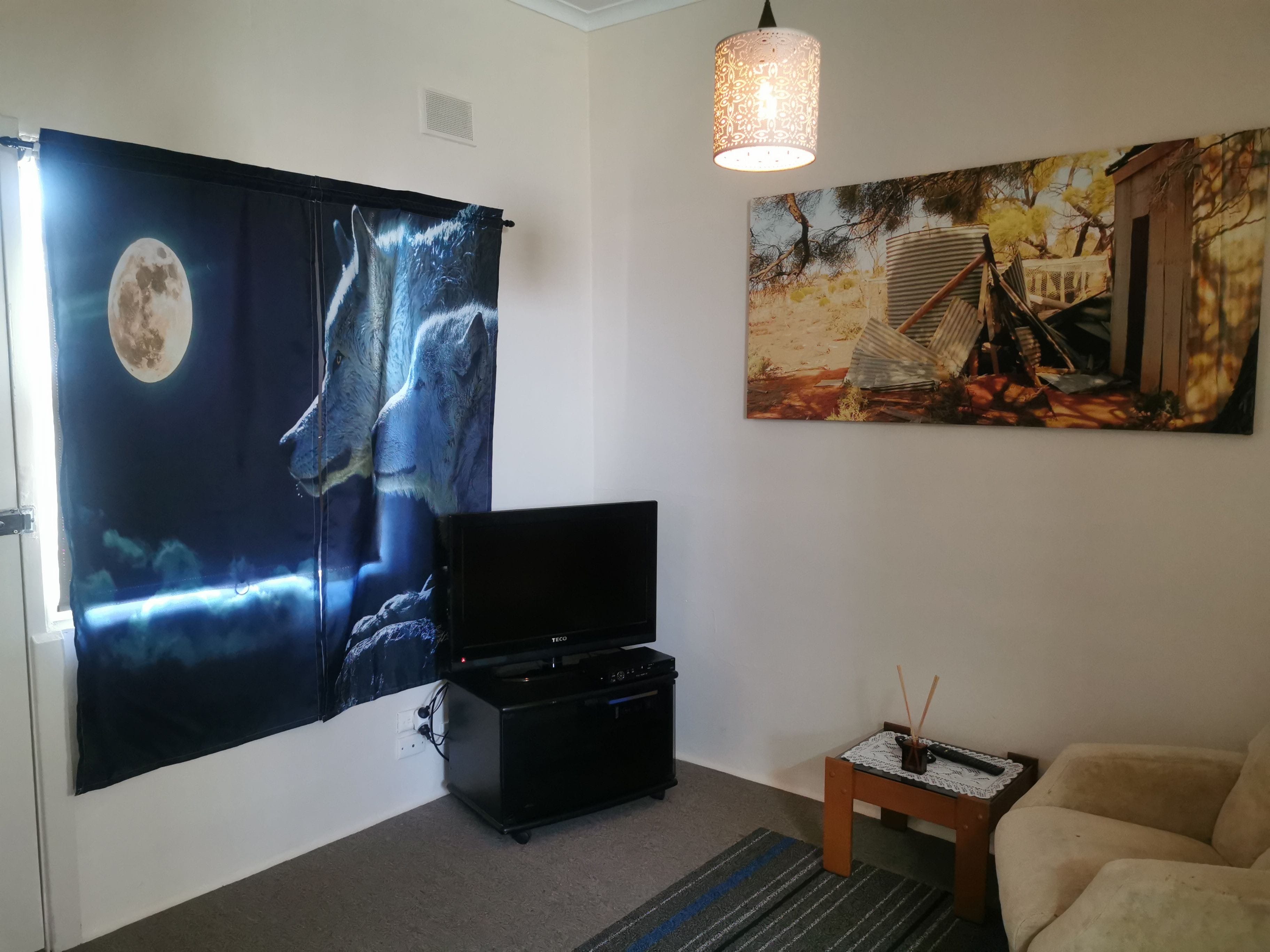 1 BEDROOM | LOUNGE & KITCHEN | 3 GUESTS
All properties cleaning practices have been increased and our cleaning staff are certified Covid-19 Marshalls to ensure the health and safety of our guests.
Kimba Units are located between Chestwood Meats and the offices of Nutrien, in the main street of Kimba, near food outlets and the Hotel. They are homely and comfortable at an affordable price.
Accommodation Type:
One-bedroom apartment. Double bed, sleeps 2 people.
Discount Rates:
Available when you stay 2 nights or more.
About this Property:
The building is old and renovation is a work on progress; however, units are very clean and comfortable. This property is best described as, economical, convenient, comfortable accommodation, all facilities necessary with plenty of room. The kitchen offers basic cooking facilities, fridge freezer. There is a basic bathroom amenity and lounge area. A separate laundry is at the end of the building available for permanent tenants and overnight guests. There is a clothesline set up.
Parking:
Single-lane parking is available in front of units or alongside the fence. Part of the fence is removed in front of unit 3 and 4 to allow access and exit. Can either use units driveway if available of access through vacant block alongside Chestwoods meats.
WIFI:
NBN unlimited internet service is available.
Breakfast:
A Continental breakfast is offered each morning at no extra cost.
Pet Friendly:
Pets are welcome at an additional cost of $15 per stay for one pet or $20 for 2 pets.
Check In:
14:00 |
Check Out:
11:00
Hostess Available Hours:
09:00 - 19:00
Pet friendly

Reverse cycle Airconditioning
Portable heating

Flat-screen TV

First Aid Kit

Fans

Hard wired smoke detector

NBN internet

Fire extinguisher

Kitchen

- fridge/freezer, stove/oven, microwave, kettle, toaster, cooking utensils, cutlery, crockery, portable cooking appliances, rainwater

Bathroom

- soaps, toilet paper

Laundry

- shared laundry washing machine, dryer, washing powder, cold water only & pegs supplied

Bedroom

- linen, towels, extra blankets & pillows, wardrobe hanging
What our customers say on Airbnb
When we had difficulty with the Wi-Fi Christine came over and solved the problem immediately. We were impressed by her real resolve to satisfy our concerns, and would trust her to hold up her end of any arrangement. Much thanks, Christine, for going out of your way to make our stay a pleasant one!
Christine's space is in a great location, the place was very tidy and the bed was very comfortable with nice linen and comfy pillows. Would recommend :)
The house was very easy to reach, clean, tidy and it had towels and soap. Christine was so kind that she left us a very nice breakfast for the next morning knowing that we would have arrived in the evening!